Bus Services to and from Draughton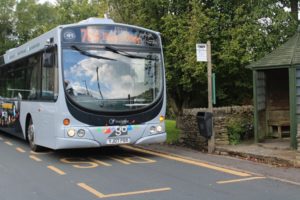 784 Service: Skipton – Draughton- Addingham – Ilkley – Burley in Wharfedale – Otley
The former X84 through service between Skipton and Leeds ceased to operate at the start of the Covid-19 pandemic. From 13 July 2020 it is replaced by an hourly Monday to Saturday 784 service between Skipton and Otley.
See the usual timetable and explanatory notes here:
784 Bus Timetable From 5 October 2020 (22 Sep 2020)
784 Bus Service – Explanatory Notes
During the summer 2021, a revised service will operate, with limited Sunday and Bank Holiday services through the village:
884 Draughton – revised service 2021
Passengers wishing to travel between Draughton and Leeds will have to connect in Otley Bus Station with a truncated X84 or X85 service for onward or return travel, or transfer to or from rail services in Ilkley.
Bus times are displayed in the Bus Shelter and on the bus-stop display board. They can also be downloaded from www.metro.com/buses/timetables or www.firstgroup.com/leeds/plan-journey-timetables. Timetables may change without notice. There are no Sunday or Bank Holiday Monday services, nor does the service run on Christmas, Boxing or New Year's Days.
Bus Connections using service 784
Use www.traveline.info for full, detailed and precise information on when, how and where to connect with all bus and rail services.
To Harrogate: Connections are normally available in Ilkley Bus Station (Stand C) for the hourly X52 service to Harrogate, operated by Connexions Buses. Buses leave Ilkley Monday-Saturday during the day at twenty-five minutes past the hour and return from Harrogate Bus Station at half past the hour.
To Leeds: X84 and X85 buses leave Otley Bus Station at approximately twenty-minute intervals throughout the day for Leeds City Bus Station. Operator: First Leeds.
To Keighley: Connections can be made either in Addingham (Moor Park Way) using service 62 or in Skipton Bus Station using service 66. Both are operated by The Keighley Bus Company. Both services normally operate half-hourly throughout the day. A faster outward journey time can normally be made via Addingham.
Towards Burnley and Manchester: The X43 "Witchway" fast service from Skipton to Manchester via Burnley has been discontinued. It is replaced by the "Wizz" Skipton to Burnley fast service. Passengers wishing to travel beyond Burnley need to change in Burnley Bus Station.
Towards Settle, Kirkby Lonsdale and Lancaster: The 580/581/582 services for Settle (normally hourly) and beyond leave from Skipton Bus Station (Stand 2) Monday to Saturday. Operator: Kirkby Lonsdale Coach Hire (www.klch.co.uk/bus-services).