Bus Service Routes 64 and 864 to and from Draughton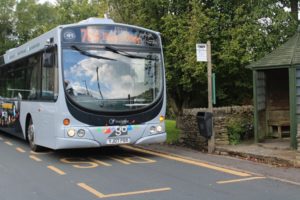 The national fare reduction scheme applies to both services running through Draughton. Each single journey costs a maximum of £2 with effect from January 2023.
Monday – Saturday
Service 64 runs hourly between Ilkley, Addingham, Draughton and Skipton during the day from Monday to Saturday (except Bank Holiday Mondays). There is no Sunday service. Buses are operated by The Keighley Bus Company (01535-603284 or www.transdevbus.co.uk/keighley, or on Facebook or Twitter @keighleybus). The latest timetable for the 64 service takes effect from September 2023; the full updated timetable can be viewed here:
Bus Stop 64 – Timetable from Sept 23
Sunday and Bank Holidays
There is a limited service for the 864 Cravenlink (Sunday) service. The timetable may be viewed here:
Notes:
The timetable for the 64 service includes an additional journey from Skipton to Ilkley at 0732 on Monday to Friday, running via Draughton
Approximate journey times:
| | | |
| --- | --- | --- |
| To Skipton: 8-10 minutes | To Addingham: 6 minutes | To Ilkley: 15-20 minutes |
Bus 64 Route: From Monday 28 February the 64 bus route between Draughton and Skipton will be along the A65, Harrogate Road, The Bailey, and High Street, and vice-versa. Buses will no longer serve stops on Otley Road or Newmarket Street. The timetable will not change.
The "Transdev Go" App provides service updates, live departure times and secure prepaid tickets (simply show the driver when you board) using Apple Pay or a credit/debit card. It can be downloaded from Google Play or Apple Store.
For detailed information about connections with bus and rail services towards Otley, Harrogate, Leeds, Keighley, Burnley, Clitheroe, Preston, Settle, Kirkby Lonsdale and Lancaster, or beyond, use www.traveline.info
Check the current status and timetable for route 864 and other DalesBus services at www.dalesbus.org